SupaJax
Current Jackpot
£40,924
Play now at Casino Action
(No U.S. Players)

Recent Jackpot Hits
| | |
| --- | --- |
| £55,317 | - 28 days, 7 hours ago |
| £53,423 | - 86 days, 11 hours ago |
| £54,458 | - 142 days, 11 hours ago |
| £57,173 | - 199 days, 15 hours ago |
| £53,137 | - 247 days, 10 hours ago |
| £53,199 | - 302 days, 13 hours ago |
| £53,854 | - 345 days, 13 hours ago |
| £52,314 | - 401 days, 2 hours ago |
| £18,628 | - 450 days, 12 hours ago |
| £57,782 | - 463 days, 9 hours ago |
| £31,985 | - 509 days, 14 hours ago |
| £55,180 | - 536 days, 2 hours ago |
| £51,740 | - 542 days, 18 hours ago |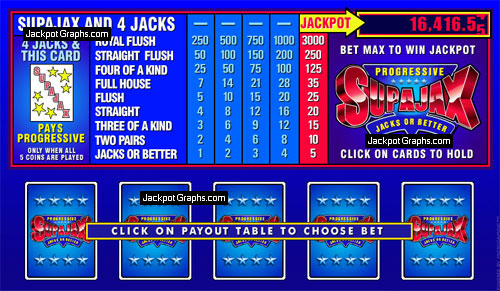 SupaJax, powered by Microgaming software, is a progressive "Jacks or Better" video poker game. The progressive jackpot is won by landing 4 jacks, plus a SupaJax card, which can be seen in the screenshot to the right.

A royal flush without the SupaJax card will get you 3,000 coins, which equates to $3,000 since the coin size in this game is fixed at $1.00 per coin. To qualify for the progressive jackpot, you must wager 5 coins, ($5.00) per hand.

If you wager less than 5 coins, you can still win other prizes, but you will not win the progressive jackpot if you get 4 jacks and a SupaJax.